We offer the most effective, industry leading methods of roof cleaning all around our local area. Our roof cleaning method safely lifts various debris, and eliminates mildew and algae, without damaging your roof. This process is extremely important to increasing the lifespan of the roof's structural integrity.
Not only is roof cleaning great for curb appeal, but it will also increase the life span of the roof. Certain organic growths will create space between the shingles and cause the wood underneath to be exposed to moisture, which will eventually lead to rot and leaks.
The Asphalt Roofing Manufacturers Association recommends that your roof be inspected on a regular basis to ensure all the components are secured properly. Regular maintenance and cleaning is required to ensure your warranty is not voided.
Often times independent homeowners, unqualified professionals or "handymen" will attempt to sanitize roofs themselves. However, their improper techniques will actually cause more damage; leading to a voided warranty. As a general rule, its best to leave your roof maintenance to qualified professionals.
When choosing a professional cleaner, it is important to ask about their cleaning methods, chemicals, and the details on how they will protect the surrounding surfaces.
We are professionally experienced with washing strip shingle, laminated shingle, interlocking shingle, large individual shingle asphalt roofs and metals roofs.
Check out our Gallery of Before and After Photos!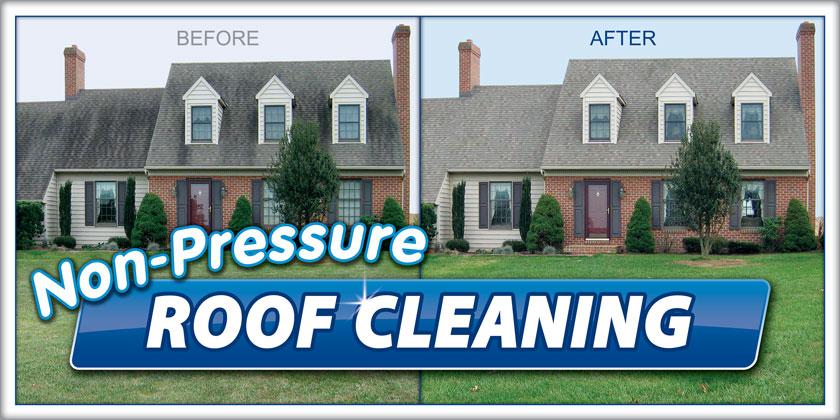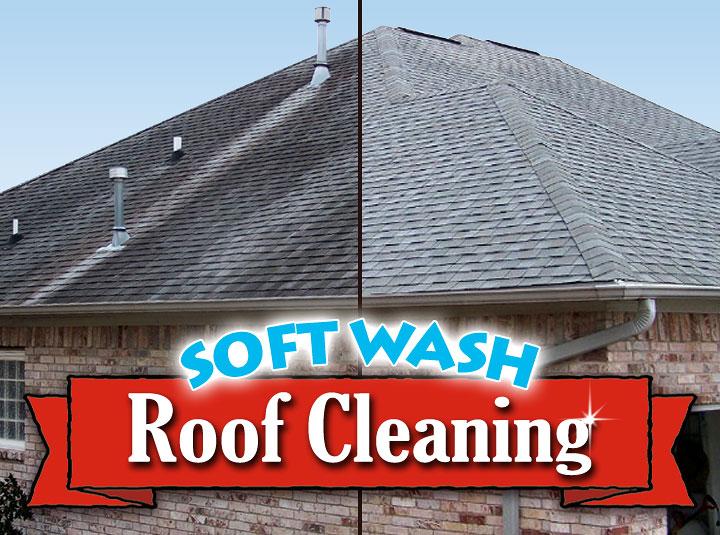 Why is Keeping Your Roof Clean so Important?
Keeping your roof clean is sometimes even more important that siding and decks being cleaned. As contaminants build up on the roof, they continually decay your shingles and can end up doing a great amount of damage in the long run, leading you to replace your roof sooner than normal. Our safe and gentle cleaning service never uses a high pressure water washing; this does not do the job properly and can actually do damage to your roof.
What is Gloeocapsa Magma?
This algae is common on roofs and often leaves signature black streaks all over your shingles. This substance thrives in humidity and hot temperatures and spreads out, having a destructive effect on your roof. It feeds off the moisture that certain types of shingles hold on to. While the roof is effected, it begins to lose its ability to reflect UV rays and eventually rots the shingles. This has been said to effect roofs severely and can take up to 10 years off the life of a roof
Consider Roof Cleaning If You Are Putting Your House On The Market
One of the first major concerns of people purchasing a new home is the condition of the roof.  It is a huge eyesore and turn-off to see an algae or fungus infested roof.  Get your roof cleaned and avoid a potential hurdle to people that are would be buyers.