We offer house soft washing, that's much more effective than power washing also know as pressure washing. Our home soft washing service uses top of the line, soft pressure equipment and safe cleaners to remove dirt, mold, and debris off of your siding, fascia boards and gutters.
A clean, soft washed home is key to the home's curb appeal and property value. It doesn't matter if you are selling your home or you just want to feel good pulling into the driveway, the cleaner the home exterior, the better! Nothing cleans exterior surfaces as quickly and economically as soft washing.
When it comes to house washing, we get the job done quickly, and at a fair price. Check out our Gallery of Before and After Photos!
Unlike wood and stucco, vinyl siding is a material that does not require paint and very little maintenance. We recommend vinyl siding be washed annually, or more/less often as needed.
If you are considering having your house painted, it is recommended that you have the exterior of your home washed beforehand. Although the exterior of your home may look clean to the eye, there is likely dust, chalking and mildew present. If you decide not to soft wash beforehand, not only will your new paint not stay for very long, but your old paint will still be underneath. Our house washing service will remove dirt; grime; and old, chipped paint that may cause discrepancies in you new paint job. In short, forgoing the soft washing step will likely cause a lot of injustice to your new paint job!
Our dedicated soft washing professionals can handle the following, plus more:
Vinyl Siding
Brick (siding, walls, and walkways)
Stone (siding, walls, and walkways)
Wood (siding, decks, and fences)
Sidewalks and entryways
Driveways and parking lots
Garage and carport floors
Roofs
Trash can areas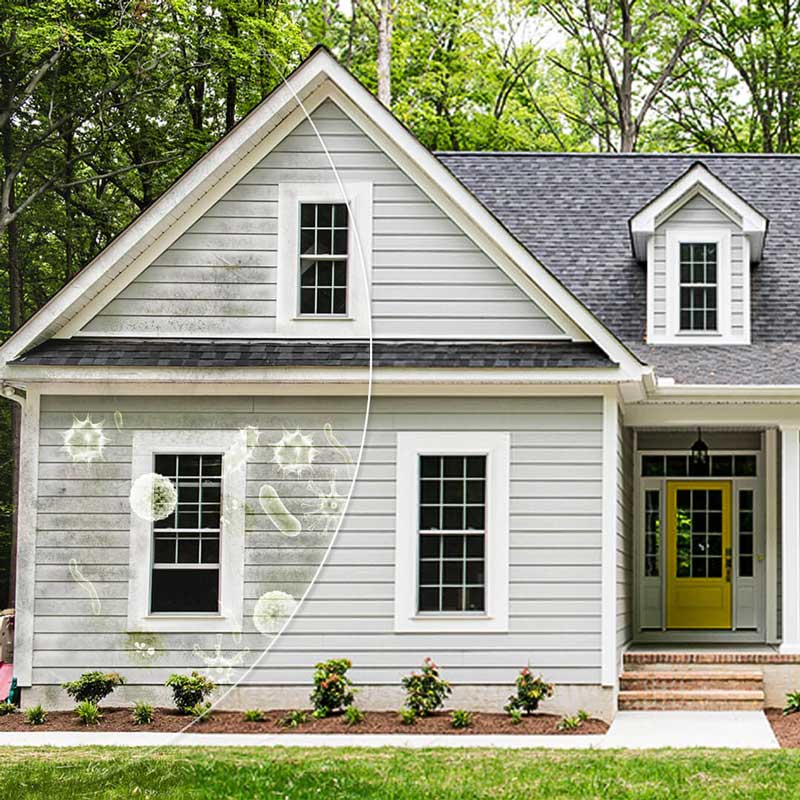 Why we only use low pressure for your home exterior:
Our professionals use low-pressure soft washing because it is the ONLY recommended method of safely cleaning the exterior of homes, buildings and other delicate services. But don't worry your house won't be any less clean. Our cleaning agents are the perfect mix of effective and safe and combined with the low pressure washing, cleans siding beautifully.
Why You Should Hire A Professional For Your House Wash
Siding and other materials can be sensitive to too much pressure. Our professional-grade equipment keeps pressure settings and water flow more precise and minimized the opportunity for error. We know exactly how much pressure to use on every type of surface to avoid damaging or marring your home's exterior and our equipment can keep that consistent, safe pressure. Your exterior can also be damaged by using the wrong type of cleanser. Our proven cleaners work great without damaging the surface of your home. 2nd and 3rd story homes require large ladders that can often spell disaster for a homeowner, especially in a wet environment, slip and fall events are far too common. Our professionals are fully trained to operate on those high elevations safely. Don't risk your home or your health by doing this yourself, call us today!
Choose Revolutionary Soft Wash for your next Project
We respond quickly. If you have a need that must be met on a short time schedule, we can work with you to get your timetable met and get your home looking great fast.
We are locally owned and operated, because of this, we give your home the personal service and attention it deserves. We also have many great reviews from neighbors in your area.
Our professionals desire your home to look as great as it did when you first purchased it. We are fully licensed and insured and has a proven track record. We are happy to provide references and love nothing more than to continue to earn your business again and again.